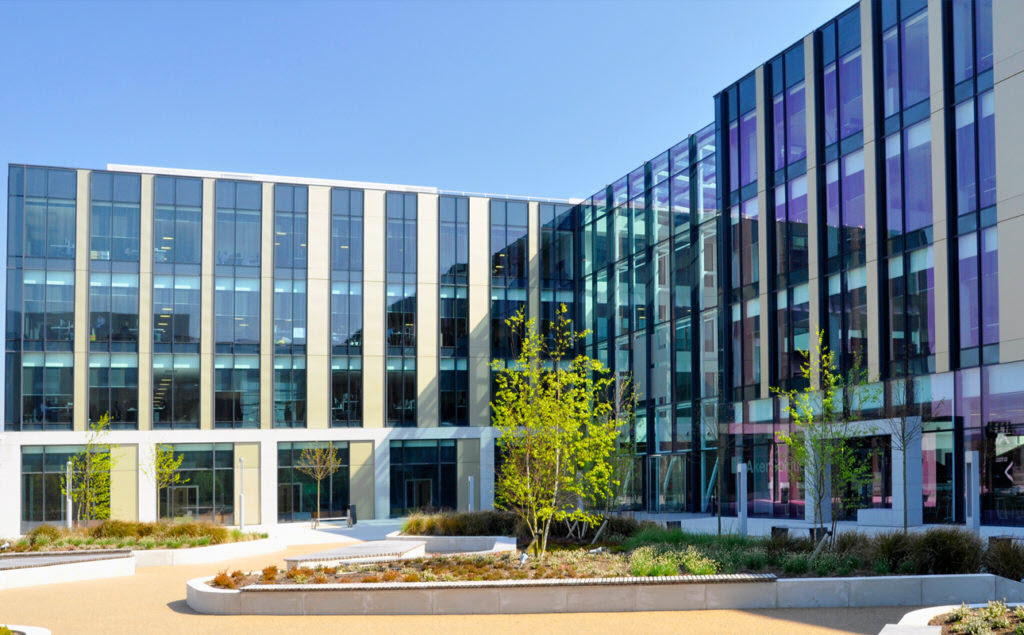 Designed by Keppie Architects and installed by Charles Henshaw, Aberdeen International Business Park is a project that is already attracting attention from major companies.
Aberdeen International Business Park (AIBP) occupies the premier out of town office site, strategically located opposite the entrance to Aberdeen Airport and with fast road links to the Scottish motorway network. Edinburgh and Glasgow are two and a half hours' drive.  Accessibility will be transformed with the Aberdeen Western Peripheral Route (AWPR), scheduled to complete in Q4 2017, which will connect with the new Airport Link Road, due to complete Sept 2016, providing swift access both to the West of Aberdeen and into the City Centre. AIBP comprises up to 1 million sq ft of proposed development within forty acres of a beautifully landscaped business park.
Sotech-Optima (www.sotech-optima.co.uk) provided a bespoke tray panel system, adapted to meet the needs of the installer's design, which was manufactured using specialist alloy Novelis pre-painted ff2 material. The inherent strength of the material means the panels don't require intermediate stiffeners or a large amount of support, helping to cut costs.
The large, floor-to-floor panels were finished in the Licht Bronce colour, and the grade of the material meant Sotech had to adapt the external radius of the bends in the trays and handle the material in a specialised way in order to suit the design of the project.
The business park comprises of a number of amenities, including offices, a nursery, a convenience store, and leisure facilities, and was designed to embrace sustainability both in terms of the materials used to create it and how it functions once it is up and running. Once the development is complete, the end project will be a unique and distinctive business park, located in an elevated position that provides unrivalled views of the city.
This information is for guidance only and availability is subject to enquiry.  Please Email Silevon